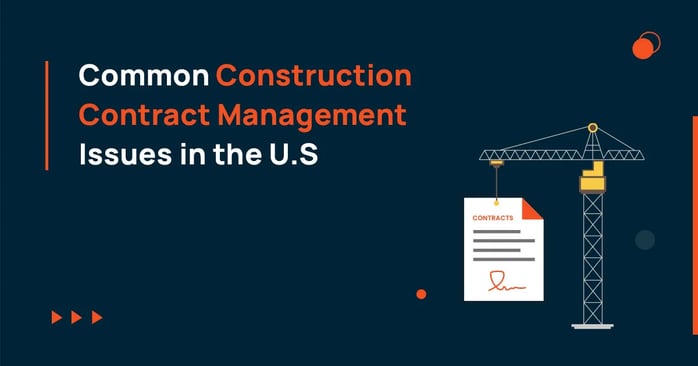 Construction is a beast of an industry–high-risk, hazardous, and highly competitive. Relying on contractor and sub-contractor inputs is a challenge, but add safety and health to the equation and it makes the load even tougher for any construction professional.
Contract management in the context of occupational safety and health is one of the most critically important aspects of managing any construction site. For example, contractors and their sub-contractors can bring a host of bad safety and health habits or poor standards to a construction site, which can greatly increase the site's risk profile.
One way to manage that potential risk is by having tight contracts with clients and contractors alike that stipulate safety and health requirements on a given site in clear, express terms.
Here's an overview of some of the most common obstacles to effective contract management that exist in the American construction industry:
Why Contract Management Software?
There are a host of reasons why contract management software can be so beneficial for a large-scale construction company. These include:
Contracts can be properly and formally requested/accessed, drafted, reviewed, and approved, as well as ensuring that all applicable signatures are duly collected;
This software will ensure a central, digital repository of applicable contract-related information and documentation that is easily accessed, reviewed, and amended where needed at all times;
It will also ensure a readily accessible contract clause library for your company, which should ensure greater consistency between contracts undertaken by the company as a result;
A more efficient and real-time ability to track the entire lifecycle of contract management for a given site or project as part of an overall project management process; and
Well-structured, well-informed, and efficient contract management ensures a more harmonious relationship between a client and the principal construction company.
Other Important Factors to Consider
There are other important reasons why contact management software can be beneficial in your contract lifecycle management (CLM), including:
Contractors and sub-contractors may lack the needed standards and understanding of safety and health requirements on the site (hence the need for sound contracts and contractor-related policies and procedures in this regard);
Proper contract management ensures improved coordination and risk control of operations on a site that may involve working in heights, in confined spaces or hazardous locations, operating cranes or other specialized equipment, may cause dust, odors, noise, and other safety and health-related hazards;
A construction company or project may sometimes rely on small, independent contracting companies and individuals that may not have the needed resources to ensure continuous adherence to required safety and health standards or training for their employees. This is especially true of sub-contractors who rely on mostly 'unskilled,' seasonal labor for their work teams. Contract management must address these potential shortfalls;
Contract management must also address the tendency for some construction projects to develop a 'look the other way' mentality on-site in the pursuit of meeting tight deadlines and ensuring budgets are kept; and
The issue of 'cost creep' can also be monitored. Why is this noted in the context of safety and health management on a construction site? Because too often, adherence to safety and health policies and procedures is one of the first casualties on a construction project that is running late or over budget. This will no doubt raise the construction site's risk profile for injuries.

Related Article:
The Need for Digital Contractor Control
The US construction industry continues to lag behind other industries regarding digital documentation. A 2016 McKinsey study mentioned, "[While] the construction sector has been slow to adopt process and technology innovations, there is also a continuing challenge when it comes to fixing the basics. Project planning, for example, remains uncoordinated between the office and the field and is often done on paper." The study concluded that digital contractor management was an effective means of ensuring improved project planning.
A digital-paper mix may be a needed compromise that both facilitates access to real-time safety data and recognizes the limitations of being on-site. Ultimately, a digital depository will undoubtedly improve a construction company's management of its various contractors by providing three things in particular:
Real-time control and access;
Consistency across all projects/sites and between all contractors and sub-contractors; and
Improved auditability, including for the purpose of legal compliance and reduced risk of exposure to liability costs
Relying on physical paper trails can be especially problematic in the lifecycle of contracts. Even emailing, reviewing, scanning, and sending back contracts can be time-consuming and inefficient. A contract management system based on e-signatures can execute contracts faster. They are legally valid and can accelerate contracts.
The construction industry may be notoriously slow at adopting new technologies but that doesn't mean your construction business needs to be. Contractors should be an asset on a construction site, not a liability. Challenges will continue to exist in the US construction industry, but none should be at the expense of construction worker safety and the effective oversight of safety and health risks on a site.
ConvergePoint's Contract Management Software is a secure, robust platform that allows you to be more efficient in your contractor management. Accessing, reviewing, and updating your contractor-related policies and procedures has never been easier than with our software.
Download Contract Management White Paper