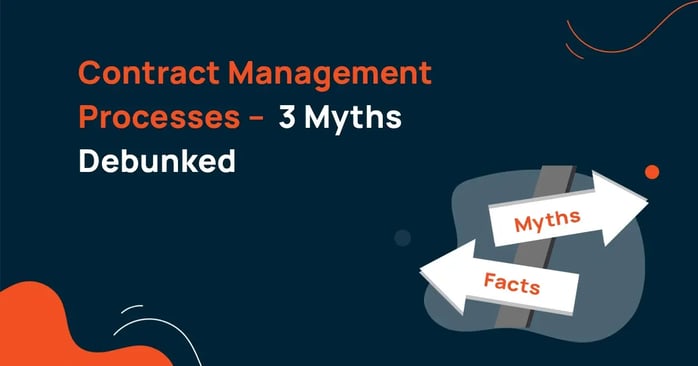 For a number of years, businesses around the globe have integrated various contract management processes to get a better grasp of their contract lifecycle. These businesses quickly found the benefits of having some sort of contract management platform, inspiring new organizations to look for contract management processes of their own. While businesses stand to benefit from contract management processes, some contract managers and legal departments might have reservations of what these processes and platforms can do for them, and whether their businesses should make the investment.
When contract managers and legal departments began researching the in-and-outs of contract management processes, they'll stumble upon outdated or misleading information. These "myths" might fail to communicate the significant benefits businesses make with the right contract management processes in place.
Which myths should your team know isn't true? Take a look at these three debunked myths and what they can mean for your business.
1. Contract Management Processes Take Too Long to Deploy
Whatever your organization's timeline may be for when you want to implement a contract management system of some sort, chances are you're looking for information now to make an educated decision and understand how long it will take to actually deploy. With more modern contract management platforms, deployment is simpler and less of a hassle for your team. If the contract management solution you're looking for happens to be running on the same platform you're using, like SharePoint for example, the deployment process can be even quicker. Not to mention deployment times of a few minutes if you're downloading a contract management add-in from the Microsoft Office 365 Store.
2. Contract Management Processes Take Too Much Training
Not everyone in your organization will understand the nuts and bolts of how these processes work, and they don't necessarily need to. With just a few training sessions lasting a handful of hours, even the least tech-savvy employees will have a firm grasp on how they are supposed to use the software. Internal IT teams don't need to get involved during training sessions and regular employees can receive all the instructions needed via email. While some contract management processes are more complex than others, great support teams won't leave your staff empty handed and will make sure you can leverage the most out of your new system. Plus, all the required training can take place in a group setting where administrators can call in and participate no matter their location.
3. Contract Management Processes Don't Reduce Risks and Crises
Leave it to some of the world's largest corporations to describe the financial impact of not having contract management processes in place. Every day, numerous businesses lose large amounts of money for failure to properly manage their contract lifecycle. In many instances, these issues would have never occurred had a contract management process been in place at the respective organization. Playing the risk of foregoing a contract management system of some sort can be dangerous for some organizations, especially when loses can hit millions of dollars.
To help remedy these problems, ConvergePoint's Contract Management Software and Office 365 Add-Inimplement industry best practices to reduce the risks of integrating new contract management processes. Through the contract creation and management phases, your contract managers and legal department can efficiently manage your contract lifecycle on an intuitive platform your whole organization can understand and leverage properly.
Related Article: Tips to improve your contract management system that saves more work than it creates.
Talk to a compliance specialist to learn how our Contract Management expertise can be applied to your business by scheduling a demo now.
Download Contract Management White Paper