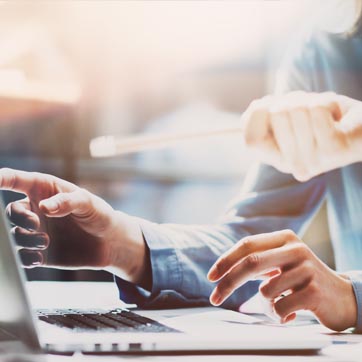 Health and Safety Management Software on Microsoft SharePoint
If a proper management system is the engine of safety and health, then one can consider documentation to be its oil. Documentation is the lubricant that allows the system to be effective and to evolve as needed. That documentation needs to be as thorough and comprehensive as possible. ConvergePoint's Health and Safety Management Software; allows you to collate all your documentation into one convenient, central repository.
It is important to note that there are different types of documentation. The most common of these is a procedure, also sometimes referred to as a directive or safe work procedure, which is a written specification for a series of actions, acts or operations which have to be executed in the same manner in order to always obtain the same result under the same circumstances (e.g. an emergency procedure).
A works instruction is a document that provides detailed requirements for a specific type of operation (e.g. the maintenance requirements or operating instructions for given machinery). An instruction identifies how work is done, by whom, where, and when it is done, and as precisely and sequentially as possible. Records are those documents that are even more specific and provide proof of the implementation of a given procedure or works instruction. A record is usually in the form of a checklist, register or other prescriptive type of form that needs to be filled in as part of a verification process. You also have records as prescribed by legislation or regulatory regime (e.g. the Injury & Illness Record-keeping Forms issued by OSHA – 300, 300A, 301, etc.)
Automate your Health and Safety Processes
Your safety management system needs to take all of the different variations and 'strata' of documentation into due consideration. Gaps in documentation can result in shortfalls in safety performance and in compliance, both legal and systemic. Even more importantly, all documentation needs to be readily accessible in updated formats to whoever might need to use a specific document at a given time, whether it's a manager or worker. Our software achieves all of that for you and your organization – and more.
An effective, digital repository of documentation will ensure that specific accountabilities are properly assigned and respected. The documentation system will be able to reflect system priorities and key systemic issues that are specific to your organization. A user-friendly and electronic database of documentation will also facilitate the selection of certain custodians or 'champions' of health and safety documentation in their respective divisions or work areas. This can be very beneficial in assigning key responsibilities in a management system. Furthermore, our software allows you to set different levels of user access and permissions regarding different types of documentation.
Download Safety Management Checklist
Where does your business benefit with health and safety management software?
Our Health and Safety Management Software provides an elegantly simple, logical framework that respects the hierarchical nature of documentation. Think of this hierarchy as providing an invaluable structure (as a type of systemic 'road map') and, therefore, a consistency to your organization's documentation system. It also provides the electronic foundation for the continuous adding and editing of documentation as and when needed and as your safety system matures and evolves. As such, adherence to documentation requirements becomes easier and more innate within the organization.
Your system requires documentation that is friend, not foe; that is organic and adaptable, not rigid and uncompromising. That is why our software is an enormous asset for any health and safety manager, professional or worker for whom health and safety is important. It ensures a documentation system that is easy to access, easy to update and that can evolve with your management system's needs.
Our support team here at ConvergePoint are experts in health and safety management. We know that we can implement your software solution in a matter of weeks or even days.
Manage All Health and Safety Processes
Incident Tracking
Safety Policies Training
Injury Illness Record-keeping Forms (OSHA 300, 300 A, 301)
Permit Management
License Management
Real-time Dashboards
Reporting
Easily Track Incidents
Get real-time statuses
Keep records of incidents in one centralized location
Set renewal reminders for upcoming deadlines
Automate Training Renewals
Automatically reissue EHS training policies by establishing time frames for review, renewal and expiration
Store all documents in one secure depository
Set different levels of user access and permissions
Streamline Employee Training
Create and assign custom quizzes to employees to ensure their understanding
Request training acknowledgements from specific individuals, teams or departments
Alert managers and employees when training, permits or certifications are approaching deadline or overdue
Ensure employee acknowledgement to help prevent future infractions
Produce Audit Reports
Lower costs by being able to quickly search and access documentation
View employee training records, including version history and related discussions
See training records individually or as a whole to track the effectiveness of current processes, notice trends and patterns, and make adjustments needed
Improve Overall Performance
Consistently comply with latest industry standards and regulations
Encourage continuous individual improvement across your organization by ensuring all employees are aware of company procedures and properly trained
Reduce costs caused by poor performance or regulatory fines and citations
Empower employees to complete their jobs with the highest level of success
Proactively Manage Certifications
Automate the certification and record-keeping process
Allow managers to quickly see status of employee permits certifications and licenses
Set renewal reminders for expiring certifications and licenses