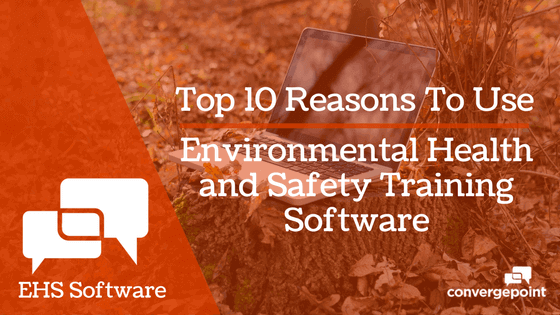 Safety Management Systems: Top 10 Reasons To Use Environmental Health and Safety Training Software
According to the Occupational Safety and Health Administration (OSHA), each year 1.3 MILLION workers suffer nonfatal injuries that result in days away from work. Not only does a work-related injury diminish morale, but it can hurt your companies' reputation, bottom line, stock price and future.
In case that statistic wasn't enough, here's a list of the top 10 reasons your company should take advantage of Environmental Health & Safety Training Software.
Compliance is key – Being compliant is three times cheaper than being non-compliant; take our word for it! Environmental Health and Safety Training Software keeps your company compliant and up to date with all standards and regulations.
Improve overall company performance – A simple concept that can make all the difference, and it starts with providing employees with the proper Environmental Health and Safety Training. Employees with a strong training foundation are equipped with the tools and knowledge to help them perform tasks more productively. Better employee performance leads to an increase in overall quality. Why would your company strive to be anything less than the best?
Lower costs & save time – You can lower costs with quick and easy access to safety training records. No hunting, digging or searching through excel spreadsheets anymore!
Employee training assurance – Guarantee that your employees are properly trained; each and every employee is a reflection of your company.
Ease of use & integration – Can't bear the thought of trying to remember one more password or username as you log in to yet another Web-hosted site or application portal? Use EHS Training Software that offers seamless integration into your existing environment.
Shrink citation & regulatory fine related costs – Who wants to deal with the unnecessary and avoidable compliance expenses that can easily pile up over time? Reduce costs caused by poor performance or regulatory fines and citations.
Employee empowerment – Empower your employees to complete their jobs with the highest level of success. Give them the tools to love what they do and do what they love, well. (& safely, too, of course!)
Be Proactive – The proactive v. reactive employee approach starts with effective training. By using the proper software, you can inform employees of the appropriate plan of action for any scenario according to the EHS training procedures outlined by your company. Your employees will no longer be searching for the correct response to certain situations AFTER they've already happened.
Prepare for the worst – Is your company prepared for a safety audit, the absolute worst, or a possible PR nightmare? Let's face it, in today's fast-paced, social media-driven world, companies are one Tweet away from a global catastrophe. Your compliance department and public relations team have enough to tackle; use EHS Training software to run safety reports instantly, train employees for the unexpected and to embrace your corporate responsibility.
Safety is serious business – Last, but definitely not least, don't let the nuances of EHS training management or the size of the task itself be the reason you overlook the simple solutions waiting within reach. The safety of your employees and their workplace ensures the future of your company.
ConvergePoint provides Environmental Health & Safety training software designed with the end user in mind. Being compliant doesn't have to be so hard; it's smooth sailing, life on easy street, and a walk in the park with ConvergePoint.
Download Incident Management Checklist