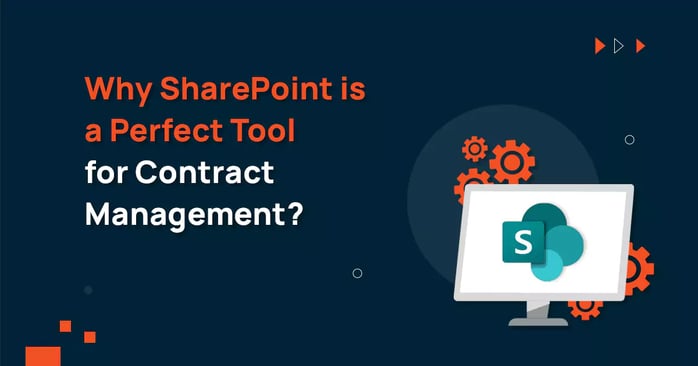 Microsoft SharePoint – Contract Management Software
Your organization has made a significant investment in SharePoint. Making the most out of your organization's SharePoint IT ecosystem can be highly useful when it comes to managing your contract management processes. Although SharePoint provides some functionality in dealing with contract management, it does not fully encompass the wants and needs of contract managers and legal departments.
SharePoint has a tremendous array of tools available for users to take advantage of, and contract managers have certainly noticed. No matter the amount of contracts within an organization, compliance experts understand SharePoint is the best platform for contract management with its elaborate features. SharePoint's default functions provide a basic set features businesses can begin using and using a tool like ConvergePoint's Contract Management Software can be easily expanded upon to add contract management best practices to the organization.
So why exactly is SharePoint the perfect tool when it comes to contract management?
Out-of-the-box Microsoft SharePoint Functionality
SharePoint Document Libraries and Contract Management
Creating and storing contracts in a SharePoint document library has a tremendous amount of upside. Not only are contracts stored in one central location, they also enjoy added security measures to ensure roles-based and permission-based access control.
Microsoft SharePoint Document Library Storage Limits
SharePoint's document repository has the ability to manage large files and allows organizations to store a large number of documents and contracts.
Take a look at a video tutorial on Microsoft SharePoint Document Libraries from Microsoft.
Integration with Microsoft Office
Since SharePoint is a member of the Microsoft Office family, users can quickly take advantage of the collaboration features right within SharePoint. For example, users in SharePoint can edit Office files (Microsoft Word documents , Microsoft Excel sheets) and save their progress without having to download the document onto their computer. Features like track changes, check in / check out and quick part fields prove very useful when editing and drafting contracts.
Document Version Control
All of these features help retain proper version control within SharePoint, ensuring no matter the amount of users viewing and editing a document, all updates will be saved
Expand SharePoint's Functionality For Contract Management
Create, Review and Approve Contracts
Tools like ConvergePoint's Contract Management Software on SharePoint 2013, SharePoint 2016 and Office 365, have extended the SharePoint platform to incorporate contract management best practices. It allows for contract documents to be uploaded quickly, edited within SharePoint and have multiple subject matter experts collaborate to create, review, negotiate and approve the contract. With one central repository, all of the collaboration happens in one place.
Custom Workflows and Audit Trails
Custom workflows help contract managers better manage the drafting, reviewing and approval phases of each contract. By streamlining the entire contract management lifecycle process, contract management workflow seamlessly funnels contracts and documents through each of these phases, while alerting the necessary parties via email if their input is needed along the way. A complete audit trail of all activity is maintained to ensure that amendments and future revisions are easily addressed.
Once a contract has completed the negotiation and approval phases, contract managers are able to use wet signatures or integrated electronic signature tools like DocuSign to ensure that documents are signed quickly and efficiently.
Integration with Electronic Signature
Afterwards, each contract will rest comfortably within a central repository, alerting users of upcoming renewals or deadlines as they approach.
Talk to a compliance specialist to learn how our Contract Management expertise can be applied to your business by scheduling a demo now.
Download Whitepaper - Why Convergepoint Contract Management Software is the Ideal Solution for Microsoft 365 Sharepoint Users