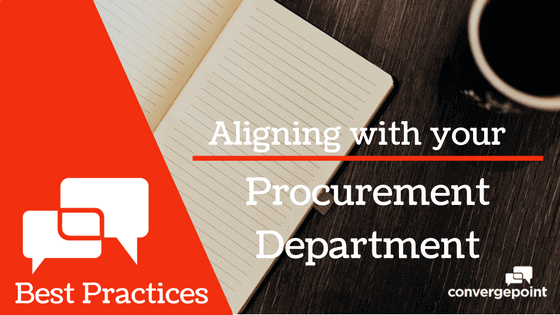 The complex relationship between contract managers and their procurement counterparts features a core value expressed by both parties: improving business results. Contract managers are in charge of handling all of the contracts in an organization and effectively managing their full lifecycle. Meanwhile, procurement specialists work with suppliers to obtain goods at a desired cost, and develop supply management plans detailing their approach.
However, these two critical departments may not always be on the same page due to their unique goals. While contract managers are concerned with making sure contracts are approved by their legal team, procurement specialists are more concerned with acquiring goods. If a supplier is found to have performed illegal deeds or is facing potential corruption charges, serious compliance implications can arise and cause trouble for an organization.
Establishing a strong relationship with the help of a contract management system is imperative to align both departments and prevent third-party vendors to negatively affect the compliance standing of an organization. A few ways to align contract and procurement management include:
Understanding the Procurement Landscape
Contract managers have a deep understanding of each contract with employees and partners in their organization, but gaining deeper insights into the procurement process of goods from suppliers could pay dividends. Communicating with the procurement department and understanding the type of suppliers they choose to do business with and how they obtain them is crucial. The contracts in place need to accommodate procurement expectations and make sure they remain compliant.
Collaborate on Supplier Contracts
When procurement specialists are vetting new suppliers and their business practices, contract managers should work closely with them to note specific compliance concerns. Whether the third-party vendor has a history of illegal behavior or run into issues with federal regulators, contract managers should help procurement negotiate terms to ensure the organization remains protected. Contract managers should provide procurement with key details into the compliance expectations of the organization and provide feedback when new contracts are created.
Automate the Request Process
Contract requests are always the first items on the list when a new contract is drawn up. When procurement strikes a new deal with a supplier, manually inputting contract requests can be time consuming on their hand, and tedious on contract managers too. A centralized and automated platform for contract managementcan prioritize requests by dollar amount and guide managers with which they should tackle first. In turn, supplier contracts can be organized by type and funneled through automated workflows to direct them to the legal team for approval.
Streamlining Using Contract Management Software
Once a request has been approved, negotiating contract terms with the procurement team can be accomplished on a centralized platform where all documentation can flow to the appropriate users. Greater visibility into the lifecycle of each contract provides valuable insights into the negotiation stage and the current status of a document. By having all departments collaborating on the same platform, the procurement team has direct control over supplier contracts and the stage they are in.
Revisions and updates are simultaneously shared from one party to the other, enabling the legal team to review and approve documents without ever leaving the system. Once a contract is approved by legal, electronic signatures can be recorded within the system, instead of having the document shared over fax or printed for a handwritten signature. With the final signed document, the contract can finally be executed throughout the organization and securely stored in a central document library. Contract managers can keep tab on obligations agreed upon with their organization and supplier, and keep track of all that information in full audit trails. Procurement and contract managers can also be aware ofupcoming contracts up for renewal and undergo renegotiation if needed.
By leveraging the power of automated contract management software, like ConvergePoint's, contract managers can speed up the contract lifecycle from new supplier agreements and track their progress in real time. Since procurement will have worked hand-in-hand with contracts managers to draw up new contracts, they will be more connected to the compliance expectations of the organization and mitigate compliance risks across the board.
Talk to a compliance specialist today to learn how our Contract Management expertise can be applied to your business by scheduling a demo now.
Download the Guide - Empowering the Contract Lifecycle Management with Microsoft Office 365