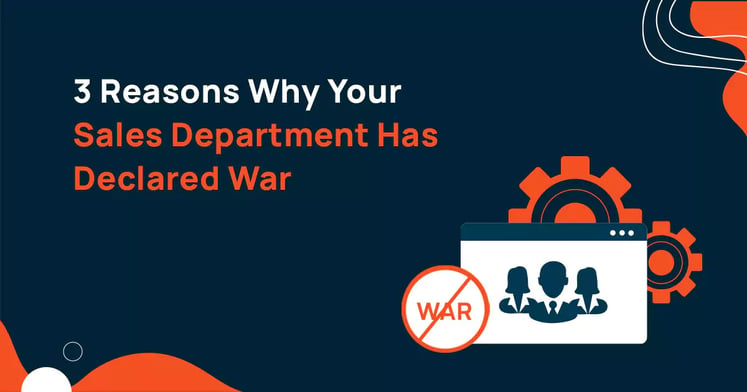 When Contract Management Goes Wrong, No One is Safe from the Wrath of Sales
Interactions with prospects and customers are traditionally regarded as the 'front line' of business operations. Making sales to those customers follows the same warfare analogy of fighting 'in the trenches', clawing for every inch of ground against increasingly aggressive competition for customer dollars. No wonder, then, that salespeople have a tendency to respond very negatively to situations in which their hard fought deals are undermined by errors back at the head office.
As any veteran salesperson will tell you, deals are landed based on promises and trust. Customers are promised that the goods or services they purchased will perform exactly as described in the literature, and that the features and benefits will solve their problems and make their lives easier. In addition, the sales team assures all of their customers that every aspect of the entire customer experience will be flawless, and they really need it to be if they're going to earn future business from those customers.
Imagine their extreme frustration, then, when they hear from a new customer that there are problems with the contract paperwork. From their perspective, that constitutes an internal declaration of war against the contact administration team. If they can't count on their peers back at head office to "dot the i's and cross the t's," how are they supposed to beat the competition?
If you have just pulled off a miracle in processing the paperwork for that deal with no time and no resources, such negative feedback may seem unfair and may be hard to swallow, but it does serve to remind you that in contract management, there is no credit for a good effort.
Related Article: Close the Deal Faster with Robust Contract Lifecycle Management
Contracts represent legal obligations, and companies become liable for fines and penalties for non-performance and non-compliance once those documents are signed. Giving it your "best shot" doesn't earn you any discounts or mercy from the court.
If the sales department has already placed a bounty on the contract manager's head, your contract management process is probably failing in one of these three areas:
Contract Creation
The larger the deal, the greater the need for special attention, whether that's priority requests, fast tracking, or the approval of custom requirements. If your current workflow just adds the contract to an Excel spreadsheet and places the documentation on a shared drive, you can expect the sales department to show up outside your door with torches and pitchforks at any moment.
Contract Management
For most people, a smooth road trip is a good road trip and a smooth contract management process is a better process. Depending on the contract management method required by your organization, many stops along the way can be required. Use a Contract management platform that encourages better <a href="/contract-management-software"collaboration a and eliminates the need to stop frequently and œfill your tank with gas.When every member of your team is free to collaborate around particular documents the less often the contract management process reaches a snag. Boost collaboration and decrease the amount of time it takes to complete the contract management life cycle.
Contract Renewal
All of that effort in the trenches will hopefully be rewarded with contract renewals when your products or services perform exactly as promised. Missing a renewal date because you didn't transfer it from your spreadsheet to your calendar will cost your company real money and earn you the contempt of the sales department for years to come.
There is a better way. Our comprehensive Contract Management Software solution can give you back control of your processes so that you can end all hostilities and win back the love and admiration of the sales department. Utilizing a secure SharePoint platform with two separate sites for contract creation and contract management, you can manage every element of contract workflow from creation to management and ongoing renewal for a complete contract lifecycle management solution.
If the sales team has declared war against you, request a demo now and let us show you how to leverage the full potential of proactive contract management.
Download Whitepaper : Maximizing Compliance and Risk Mitigation with ConvergePoint and Microsoft 365 SharePoint